Another look at blockchain consortia in healthcare, ETHBoston, and smart contract risks
Blockchain in healthcare updates
Hashed Health released another newsletter examined blockchain consortia in healthcare.
This builds on their previous newsletter on consortia.
These are some great tables on participation in blockchain consortia by healthcare enterprises put together by Hashed Health: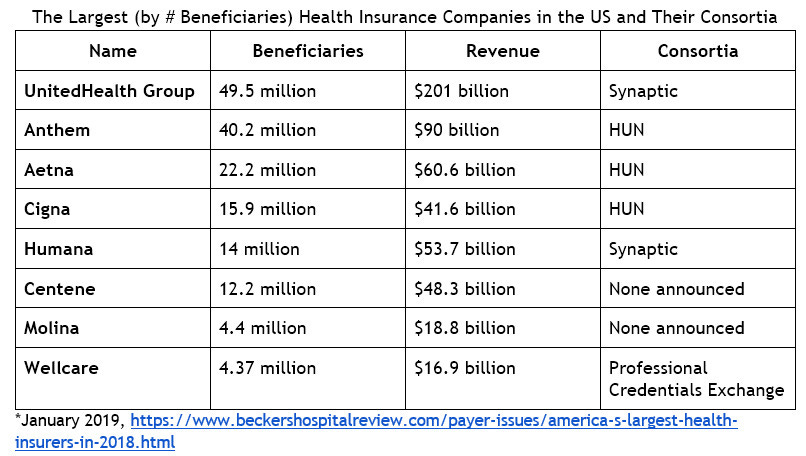 There is a lot of great analysis and content here. It's striking to see how many major insurers and pharma companies are participating in the space in a meaningful way, and it shouldn't be lost on us that these consortia are made up of mostly competitors as well. Another thing I would add to this piece's analysis is that the pace of new consortia being formed has increased over the last year, and it'll be interesting to see if that trends continues or if there is a plateau.
They aren't quite consortia, but I think that business networks worth noting are the DSCSA pilots and the yet to start Blockchain Enabled Healthcare project out of the Innovative Medicines Initiative.
MediLedger's Verification Router Service is integrated into SAP
SAP announced that they would be offering MediLedger's solution for verifying prescription drug authenticity as part of their "Information Collaboration Hub for Life Sciences." Specifically MediLedger's first product around Verification Router Service was integrated. Chronicled, the party that convened and leads MediLedger, tested this service with Systech as well.

It's great to see blockchain solutions in production. I'm curious about what the tech for this looks like and how MediLedger is being integrated into legacy systems.
More production: Decent launches a new way for self-employed people to obtain affordable health insurance plans
What I'm reading this weekend
I spent this weekend hacking away at ETHBoston, an Ethereum hackathon.
(Which is why this newsletter is a bit late!)
A bunch of top projects sponsor the event and provide on-site workshops, and attendees are invited to build something cool with their technology with prizes going to the top projects. It is a good way to learn about both the basics of blockchains and the cutting edge. It is amazing how much cool stuff can get built in about ~36 hours too. The themes I picked up on in the event were:
Scalability (particularly "layer 2" solutions, which Vitalik discussed in last week's newsletter)

Privacy (focused on zero-knowledge proofs, NuCypher, and Enigma,)

User experience (SquareLink and Torus offer experiences closed to the traditional web)

Decentralized finance (for some reason people in this space love to create complex financial instruments)
You can see the submissions here. My partner and I created a proof-of-concept where someone can share their health data with researchers to be matched to clinical trials. We used 1UpHealth to get health data and NuCypher's proxy re-encryption to manage access to that data. We ended up winning the overall hackathon and getting an award from NuCypher too. Including us there were three healthcare related projects.
You have to apply to attend the hackathon, but it is free to participate if you get accepted. I would recommend them if you are at all interested. Here is a list of future ETHglobal events.
Bitmark, a blockchain startup focused on "digital property rights," has closed a $3m series A led by HTC with participation from Alibaba and DCG. They reference the work that they have done with Pfizer "demonstrating how digital property rights can enable better health studies and clinical trials."
What you should know before putting half a million in Compound
Compound Finance is a darling of the Ethereum community. In short it is a way to lend your crypto in a peer-to-peer way (decentralized), has over $100m in capital that has been locked up in Compound's smart contracts, boasts ridiculously high interest rates for lending (~10% APR), and has a lot of projects building on top of the Compound protocol. The above article is a thoughtful look at the risks in putting your capital into Compound finding that:
Compound's smart contracts are safe but…

The process Compound has for updating its contracts leaves an opportunity for an attacker to drain funds that have been loaned out.
So, this is prompting a lot of discussions on 1. the merits of decentralization, 2. how projects should create processes for updating, and 3. what level of centralization is appropriate when lots of money is on the line.
Outlier Ventures found that $23.7bn has been raised by 3,738 blockchain companies since 2013 although Crunchbase found funding is sharply down in 2019.
a16z's crypto summit
Security and Privacy for Crypto with Zero-Knowledge Proofs
Social Networking in 2030: How Could Crypto Change Things?
Decentralized Applications: What's Now, What's Next
The Architecture of Crypto Innovation
Taking Crypto Beyond Volatility: Stablecoins
Venture capital stalwart and crypto leaders a16z hosted a private event in May and invited officials from the Treasury Department, the Securities and Exchange Commission (SEC), the Commodity Futures Trading Commission (CFTC), as well as cryptocurrency companies on the venture firm's portfolio. Their goals, it seems, were to make sure the nascent industry wasn't regulated away and foster dialogue as well as education.
A couple videos from the event were recorded and are online. I thought they were great content, and in particular the explanation of zero-knowledge proofs given by Zooko here was the best and most understandable I've ever seen.